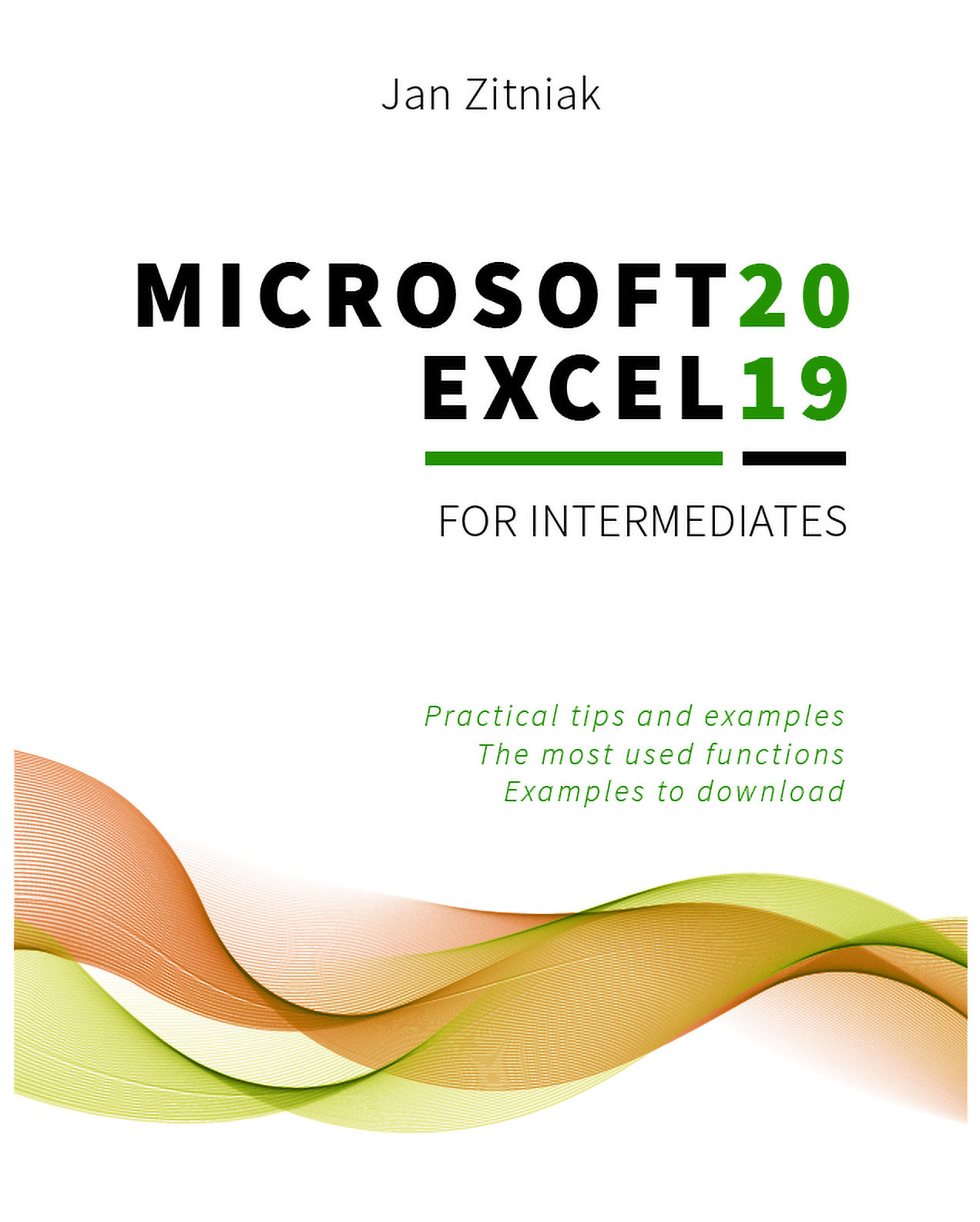 This book Microsoft Excel 2019 for intermediates is a condensed and yet effective manual explaining the functions most commonly used in both the private and corporate sector. It focuses on practices suitable for users to learn about the program up to the intermediate or advanced level

The steps outlined in this book (unless otherwise mentioned) also apply to Excel 2007, 2010, 2013, 2016 and 365, and come from the author's many years as a certified Microsoft Office Excel® Expert instructing at both smaller firms and at larger, transnational companies.

For intermediates you find:
-------------------------------
Introduction
Sharing a workbook
Sharing a document through a link
Sending a workbook as an attachment
Version history
Restricting entry into cells – protected sheets
Protecting a workbook
Flash fill
Quick analysis
Ideas
Inserting more complex formulas (functions)
Editing a function
Functions
Mathematical and statistical functions
ROUND
SUMIF
AVERAGEIF
COUNTIF
SUMIFS
AVERAGEIFS
COUNTIFS
SUBTOTAL
Search functions
VLOOKUP
HLOOKUP
LOOKUP
MATCH
INDEX
CHOOSE
Text string functions
CONCAT
FIND, FINDB a SEARCH
Date functions
DAYS
Logical functions
IF
AND
OR
IFS (IFS)
IFERROR
Nesting functions
Converting formulas to values
Formula errors
How to correct the error
Linking data in sheets and workbooks
Tip for quick summing
How to use a value in another workbook
Viewing data flow in a sheet
Trace Precedents
Trace Dependents
What a chart is
Chart description
Creating a chart
Using buttons to edit and filter a chart
Chart Elements
Chart Styles
Chart Filters
Design
Chart Layouts
Chart Styles
Data
Select Data
Location
Format
Current Selection
Insert Shapes
WordArt Styles
Arrange
Size
Chart actions
Move chart
Resize chart
Additional changes in chart
Format chart
Delete chart
Conditional formatting
Rule types
Finding duplicates
Top and last N items
Managing rules
Removing rules
Formatted tables
Removing formatted tables
Adding a row
Adding a column and a calculation to a column
Removing a row or column
Inserting a formula
Pivot table
How to create a pivot table
Grouping dates
Updating pivot table data
Changing source data
Changing functions in a pivot table – sum to average, count, maximum, minimum and more
Displaying values in a pivot table as a calculation
Filter data
Visual data filter - slicers
Timeline
Formatting slicers and timelines
Removing slicers and timelines
Pivot chart
Dashboard
Tell me what you want to do
--------------------------------------------------
Practical tips and examples.
Examples for this book download here.
If you donate me with 5 Eur (5 USD) I'll send you this book and my another book The Microsoft Excel 2019 for beginners for free!